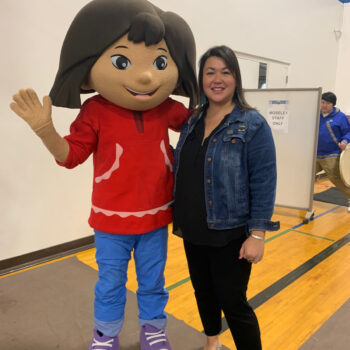 Indigenous Peoples Day 2022: A Reflection
Rochelle Adams
Indigenous Peoples Day: A Year in Reflection
In 2022, we asked prominent Indigenous community member Rochelle Adams to reflect on Indigenous Peoples Day. Check out her responses from a year ago and see if they resonate with how you feel on Indigenous Peoples Day in 2023.
"This year Indigenous Peoples Day was Monday, October 10th, 2022. After being apart since 2019 due to the pandemic, it made coming together so much sweeter! I was excited to attend the APU celebration at the Moseley Sports Center in person to be with our community, share great food, important messages and feel the drum beats together. The last couple years have been online, which I'm grateful for the opportunity. But there is nothing like being in person and sharing hugs and our love for our beautiful, vibrant cultures with one another. We also kept the online component for accessibility and to share with our relatives and friends outside of Anchorage.
I have been a part of the planning committee for several years. I look forward to the time of year when the lead organizer Kristel Komakhuk, APU reaches out to pull us together to plan the year's Indigenous Peoples Day celebration. The co hosts this year were Alaska Pacific University, Alaska Federation of Natives, Alaska's People, Alaska Native Professional Association, Alaska Native Tribal Health Consortium, Alaska Native Heritage Center, Alaska Native Sisterhood Camp 87, Alaska Native Village Corporation Association, Cook Inlet Tribal Council, First Alaskans Institute, Native Peoples Action Community Fund and Native Village of Eklutna.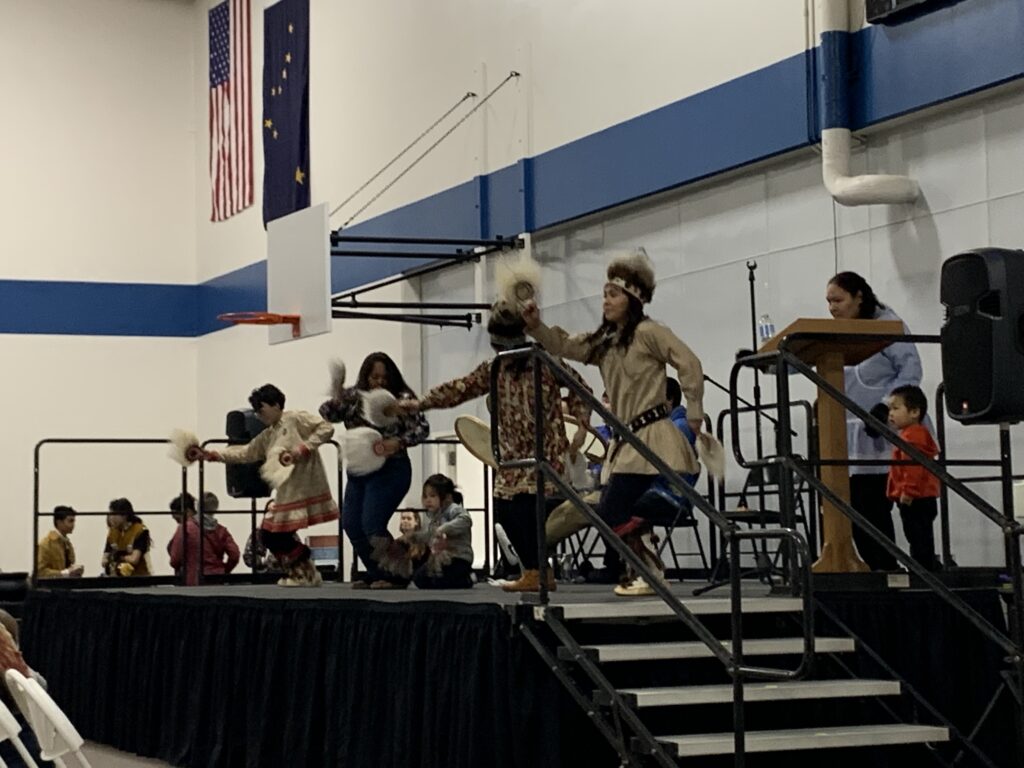 This year our theme was "Honoring Our Ways of Life: Celebrating Who We Are." We had guest speakers from around the state including Janelle Vanasse, APU President, Curtis McQueen (Tlingit), myself, Rochelle Adams (Gwich'in) and Crystal Leonetti (Yupik). We also were so honored for the performances by Alaska Native Heritage Center, Ida'ina Keljeshna (Dena'ina), Alaska Native Cultural Charter School choir. We also had an amazing buffet of soup and frybread and it was so much to have the Molly of Denali walk-around!
My message was about stewardship and how Alaska Natives have been the stewards of these lands and waters since time immemorial. I also shared how this stewardship is a little different. Nowadays, in order to stand up and protect our ways of life this means to show up at the polls and to vote! Vote your values for candidates whose values align the best with your own. This also means to show up in spaces where decisions are being made on behalf of our hunting and fishing rights. Because Alaska Natives are the experts as the ones that have lived here for thousands of years in balance with these lands, water and animals relatives. If we do not show up in these spaces, these decisions will be made for us and this is usually not in our best interest..
That being said, It is so important that we celebrate together! It is so important that we acknowledge our history and the knowledge that we hold as the first people of Alaska. If we can all come together to take a stand to protect our ways of life, we can ensure our ways of life for the next generations. It is our responsibility to speak for our relatives that cannot speak for themselves. As we face the Salmon crisis along the Yukon River and our hunting and fishing rights are continuously being under attack, now more than ever it is vital that we stand up. I'm honored to share this message with our community."
Rochelle Adams is from the Interior Alaskan villages of Beaver and Fort Yukon, and her parents are Angela Peter-Mayo of Fort Yukon and the late Cliff "Tuffy" Adams Jr. of Beaver.