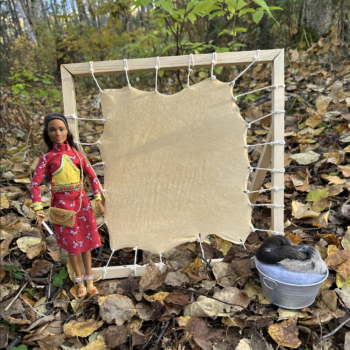 Ermelina Gonzalez
Move Out the Way Malibu Barbie, Make Room for The Indigenous Barbie
Indigenous Barbie Q&A: A Celebration of Alaska Native Heritage
Creating alongside her Mother, Angela Gonzalez, the two have gone viral on TikTok for their Indigenous Barbie creations, specifically the "Fish Camp Barbie," which has garnered over 100,000 views on TikTok. Ermelina Gonzalez spoke with the RIVR and revealed more details behind the creations:
My name is Ermelina Gonzalez, my Denaakk'e name is K'ete ts'aayedaalno. I was born and raised in Anchorage, Alaska. My Mother is Koyukon Athabascan from Huslia, Alaska and my Father is Hispanic from El Salvador.
What led you to begin the creation of Indigenous barbies?
My mom first made a fish camp barbie for me when I was about ten years old. She used one of my barbies to make the scene. My mom's late grandma, Lydia Simon of Huslia, use to make grass dolls at fish camp when she was growing up. Over the years, my mom began to make more for non-profit fundraisers. I received my first sewing machine at fourteen and the same year learned how to make a betsegh hoolaanee (qaspeq or summer parka). Over the years, I've helped my mom with sewing the clothing and accessories.
How much of an impact has Social Media had on spreading your content's message?
Posted on my mom's account, TikTok has spread our message of Indigenous representation to many Native and non-Native people across the United States and Canada. A couple of the videos have gone viral not only on TikTok, but other platforms as well.
What's your favorite barbie you've made thus far and the biggest lesson you've learned?
My favorite Barbie is the moose hide tanning barbie. I like that Barbie because of what she is doing. Moose tanning is a practice being revived in Alaska and I think the process is just so amazing. The journey to processing hide is beautiful and the end result is so rewarding. The biggest lesson I've learned is that Indigenous representation is important. I can tell from the shear amount of comments from Native people that they've loved it and how healing it is for their inner child.
What do you think about there being a hunger for Indigenous representation in pop culture?
We first started making the barbies with the things we had at home. We encourage anyone to do the same and represent their culture and heritage. We had people comment that they would like to see a whale hunting, dog mushing, and ribbon skirt barbie. Overall, many people are reconnecting and have a hunger for learning and practicing our culture and way of life. There is definitely a hunger for learning Alaska Native crafts, many people are disconnected and social media is a way to share our knowledge for these activities.
What about Indigenous Ken? Any plans to make a version soon?
Yes! We recently bought a Ken barbie doll and have plans for him in the making so stay tuned!